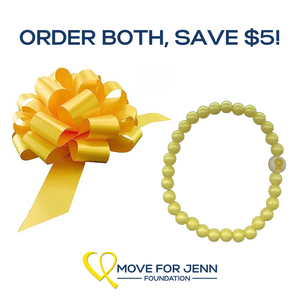 Purchase both items and save $5!
Bracelets stretch and fit all sizes.
9" wide yellow bow that you can display on your mailbox, wreath, or any other spot to show support for Sarcoma Awareness Month!
Price includes shipping and will be sent straight to your home or office.
Proceeds directly support the Move For Jenn Foundation. All bow and bracelet purchases are 100% tax deductible.