Thriving (and Paddleboarding) After a Lower Leg Amputation - A Blog from Atrium Health
The following blog was written by our friends at Atrium Health about sarcoma warrior and MFJ grant recipient, Cortney Robateau.
"Thriving (and Paddleboarding) After a Lower Leg Amputation
For Cortney Robateau, a lower leg amputation allows her to be cancer-free – and a new prosthetic allows her to enjoy a summer of running, paddleboarding and playing with her son.
When Cortney Robateau mentions her pedicure, she's probably not referring to painted toes but to her lower leg amputation. And when Cortney talks about Regina Phalange, she's not making Friends' reference to Phoebe Buffay's alter ego, but to her prosthetic leg.
This tells you plenty about Cortney, who's met a rough challenge – cancer followed by an amputation (ahem, 'pedicure') – with resilience and laughter. But make no mistake: Her humor is borne of serious inner strength.
When Cortney learned about the need for an amputation, she wondered how her lifestyle could survive the loss of a leg. She was a runner, a tennis player, a basketball player, a paddleboarder. Cortney's inspiration to stay strong and positive was her 15-year-old son. Knowing that he would be watching her handle unexpected challenges made her keenly aware of how she met those challenges. She found a doctor who shared a commitment to her goals, Dr. Joshua Patt, Atrium Health Musculoskeletal Institute's vice chair of education and faculty development and the chief of the sarcoma section at Atrium Health Levine Cancer.
'The surgery that we decided on was a below-knee amputation, so we could completely remove her tumor,' Patt says. 'Our goal was for her to resume and maintain the active life she wants without limitations and cancer free!'
Together, Patt and Cortney created a treatment plan that would put her on the path from cancer patient to amputee and back to an active (and hilarious) mom.
'Hey, life's going to kick you in the pants sometimes, and you just keep going and have a good attitude about it. Your attitude is everything,' Cortney says. 'I want my son to know that I'm not going to let life beat me down because life is difficult.'
Not a Cyst, but Cancer
Cortney's cancer journey began in 2015, before she even knew that it would become a cancer journey. Then, when she lived in West Virginia, she felt a bump near her ankle that sent her to the doctor. The doctor believed it was a benign cyst. After she moved to Charlotte, the bump had grown so she had it removed. She then received the unwelcome news: The bump was not just a cyst but rather it was clear cell sarcoma, an aggressive form of soft cell tissue sarcoma.
Her orthopedist referred her to Patt at Levine Cancer, where she had another surgery to remove any residual tumor. Two years later, the cancer returned. In 95% of sarcomas, Patt and his team can remove the cancer without an amputation, but after initial efforts to save her leg, that was not the case for Cortney. Amputation was now her best chance for a cure.
'You have to make a decision about the safest and best operation for the tumor,' Patt says. 'The thought of an amputation was a big shock and adjustment for Cortney. We used all of the resources available to us through education, preoperative planning and even a volunteer peer counselor to help her prepare physically and mentally for the surgery.'
Cortney asked her son if he'd be embarrassed having a mom with a prosthetic leg.
'No, I just need you here,' he told her.
A Global Leader in Orthopedics
Atrium Health Musculoskeletal Institute is a global leader in this space, offering the latest innovations to save limbs when possible and to perform amputations and offer high-performing prosthetics when needed. Dr. Joseph Hsu, Atrium Health Musculoskeletal Institute vice chair of quality and orthopedic surgeon, served in the U.S. Army as a trauma surgeon and now brings military-level innovations to civilian patients, including the Return to Performance Pathway program and osseointegration. Patients from around the country come to Atrium Health Musculoskeletal Institute for the expertise of this team.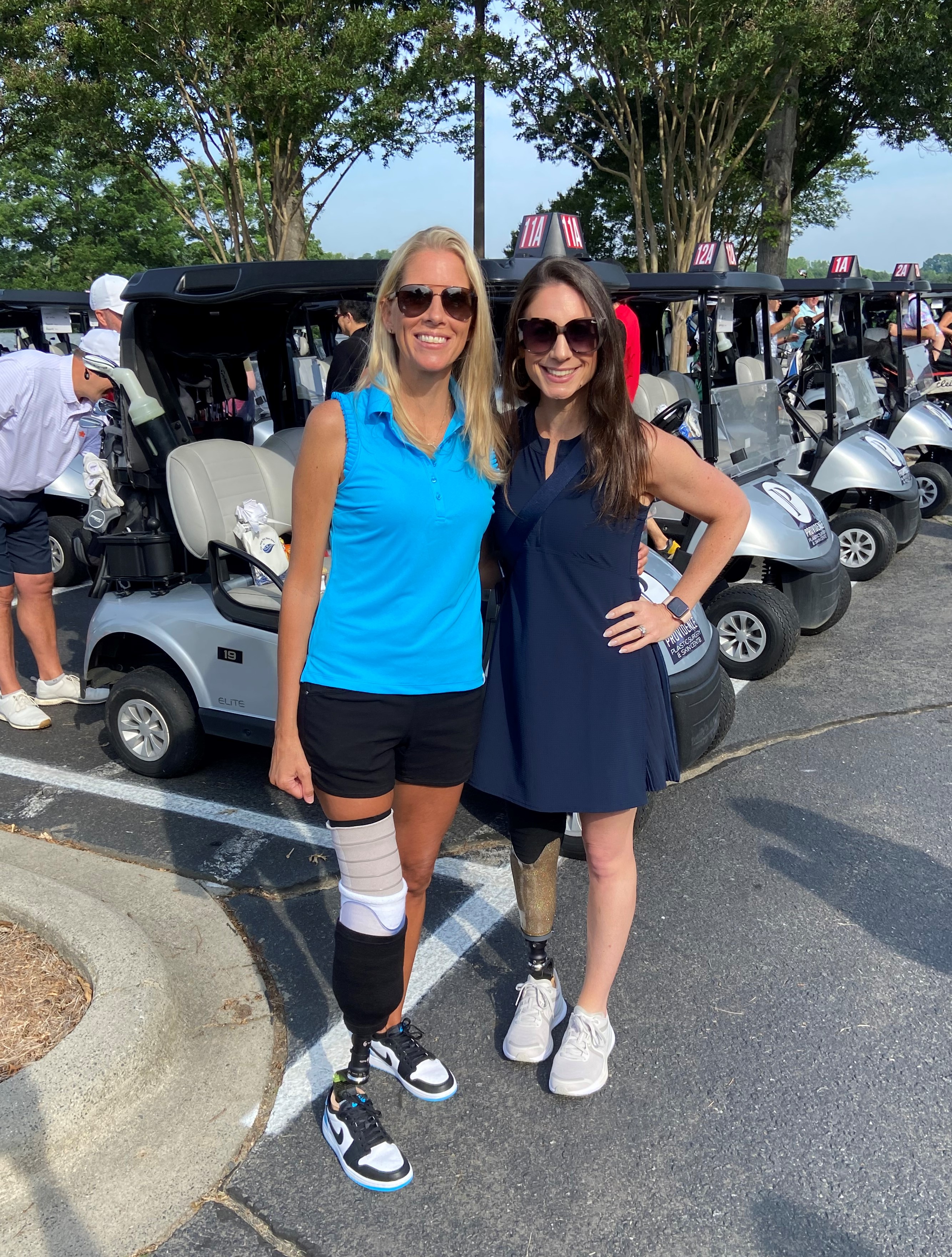 'We have extensive experience with amputations and limb salvage in trauma with wounded warriors and sarcoma,' Patt says. 'As physicians, we share our expertise and learn from each other to get the best outcomes for all of our patients.'
Patt, who specializes in musculoskeletal oncology, was uniquely positioned to help Cortney – in getting rid of the cancer and helping her thrive with a prosthetic.
'I feel so fortunate that we moved to Charlotte because I truly don't know where I would be without Dr. Patt and his team,' Cortney says.
Patt introduced Cortney to a previous patient of his who maintains an active, athletic life with a prosthetic limb: Jenn Andrews, from the Move For Jenn Foundation. Patt serves as a board member of Jenn's organization and he was able to be with Jenn and Cortney during a special moment at the Move For Jenn Open 2023 last May. 
'During the events for Move For Jenn, we often do a surprise presentation of a running blade to a deserving patient,' Patt says. A running blade is a light and springy prosthetic that allows people to run at higher speeds than they can with traditional prosthetics. These high-performance running blades are not generally covered by insurance. The running blade they presented Cortney is waterproof, so she can return to paddleboarding, too. 'It was fun for me, as Cortney's physician and as a Move For Jenn board member, to present Cortney with the running blade.'
Taking Big Strides Toward a Bright Future
Cortney continues to come to Levine Cancer for three-month scans to monitor for any signs of the cancer trying to recur. She's also starting physical therapy, and she's got several goals to inspire her work: getting back to the neighborhood wiffleball team, running and playing with her son. She hopes that other people who face an amputation will realize that it's not the end of an active lifestyle. Cortney and her prosthetic, Regina Phalange, are proof of that.
'Don't fear the unknown. There's life on the other side of it and you can have everything that you think you're going to be missing,' Cortney says. 'You can actually come out on the other side a better person than when you went in.'
Learn more about cancer care at Atrium Health Levine Cancer and orthopedic care at Atrium Health Musculoskeletal Institute."